We all know that abiding by the four R's (Reducing, Reusing, Repurposing, and Recycling) is an easy way to reduce the amount of trash that ends up on our roads and in our storm drains. But have you ever thought that we can repurpose trash and use it in our roads? The Hawaii Department of Transportation (HDOT) is paving the way in road construction methods by testing the potential of using recycled plastic pellets in asphalt.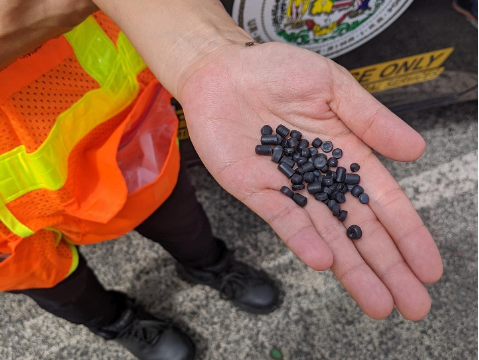 Photo Credit: www.facebook.com/MarineDebrisResearch/
This method has already been used in other states for over five years. However, Hawaii's hot and humid climate can be tough on infrastructure so it is important to make sure that the materials perform well and have a sustainable impact over the long-term. The test site is in Ewa Beach, from the beginning of Fort Weaver Road near Cormorant Avenue to Kilaha Street. The project kicked off on October 11, 2022, and will last almost two years.
"Using plastic in our asphalt has the potential to make our roads stronger and upcycle material that would be otherwise headed for a landfill," said HDOT Deputy Director for Highways Ed Sniffen. "Even though we're using a material that has been used on roads in the United States for over five years, we need to make sure the mix is right for Hawaii and our environment."
The project will also evaluate various high recycled asphalt (RAP) mixes using 50% RAP. Positive results from the testing could allow HDOT to more than double the percentage of recycled asphalt currently used in the state. Reusing materials such as polyethylene plastics and asphalt will divert waste from landfills and has the potential to increase the durability of our roads. This project will keep the equivalent of 195,000 plastic bottles out of the landfill. According to Dr. Jennifer Lynch, who works with the Hawaii Pacific University Center for Marine Debris Research, upcycling plastics is the best option for disposal of plastics since it emits the lowest amount of greenhouse gases.
The College of Engineering at University of Hawaii Manoa and Hawaii Pacific University's Center for Marine Debris Research are partnering with HDOT to assess the performance of the materials, and the environmental impacts. The researchers will conduct water quality sampling of the storm water runoff to monitor for microplastics and other chemicals that are used as plastic additives. This project is a gleaming example of how innovation and collaboration can lead to a more sustainable future. Keeping Hawaii's roads clean will help keep trash and other types of pollution out of our storm drains and waterways.
Sources:
Facebook – HPU Center for Marine Debris Research
University of Hawaii – News
Hawaii Department of Transportation – Bulletins
UH Manoa College of Engineering
HPU Center for Marine Debris Research – Projects